Oh, no. Your favorite mascara has run out.
You don't have that much time today, but… maybe just a quick trip to Sephora.

Is there even such a thing?
You walk into your makeup Mecca and release a sigh of gratitude. Oh hey, is that the new Benefit liner?
  You start going crazy over the testers, and not just the mascaras.
Why are the lights in here so bright?
When did you start holding all these eye liners? Are they even on sale?
Maybe you should get one of those bags anyw—LOOK AT THAT NAIL POLISH.
Oh wow, you were here way longer than you thought you were. You hop in the 900-ft snake of a line and start getting majorly antsy.
This down time makes you start mentally price checking the beauty bounty you're carrying with you.
It's how much??
 You go to pull out your wallet and a white trail of paper falls out of your purse.

Praise the coupon gods: It's ExtraBucks.
Despite your efforts, the price still shocks you— Wait, I only have five items!
 And the thought of leaving something behind gives you anxiety.
You only live once right?
Besides now you have enough points for a free perfume.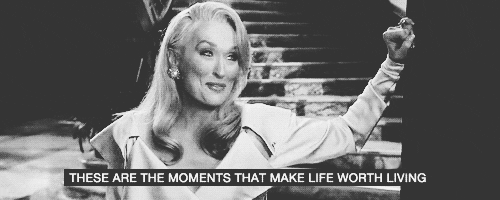 What are your favorite makeup stores that you just can't resist walking into and spending money? 
credit: crystalrichard.com; ghiphy
FROM THE WEB:
---
Follow