2014 has been amazingly awesome year for GlossyFinds. We have reached new heights of success, spread our wings across the globe and experienced love from you guys like never before! What made 2014 all the more amazing were the awesome beauty products that helped us look Glamorous, Gorgeous and Glossified! As we say goodbye to the year 2014 and welcome more glossy-liciousness in the New Year, we decided to acknowledge the Best Beauty Products of 2014 and share with our beautiful GlossyGirls our top picks! Read on to know which beauty products deserved a GlossyFinds Beauty Award 2014!
1. L'Oreal Paris Makeup Genius App

Totally not an actual product, but this app is so good for when you want to play around with different makeup trends without getting your face all messy! You can try a plethora of beauty products on yourself, give yourself a makeover and decide which looks curated by makeup artists suit you the best!
2. Revlon Nail Art Shiny Matte

The ultimate in nail art, these things are an absolute breeze to use. It's a normal nail polish applicator on one end and on the other end is a skinnier version for doing nail designs! The color choices? Straight off the runway to give you gorgeous manicures at home!

NARS has done it again with these babies. These two-in-one lip and cheek products offer smooth matte finish and a vibrant color! Available in 7 different shades, these can be used either wet or dry. For a highly pigmented finish use them dry, for a more sheer effect, dampen your finger tips and blend away! Our favorite is Laos, a gorgeous Rose Coral perfect for everyday makeup!
4. Olay Fresh Effects Dew Over! Hydrating Gel Moisturizer
An absolute must-have for oilies, this gel based moisturizer provides instant hydration without making the skin all greasy. The honeysuckle and white tea essence in the product are just perfect to recharge your skin and make it look dewy and fresh throughout the year!
5. Clarins Opalescence Teint Powder and Blush
This Clarins product is perfect for those 5 minute makeup routines early morning before rushing off to work. The Clarins Opalescence Teint Powder and Blush serves as a setting powder, a blush and a bronzer. You can swirl the brush in the product and swipe it across your cheeks to give it a natural flush of color while setting your makeup or you can use each section separately to give your face a little dimension!
6. Anastasia Beverly Hills Contour Kit

This kit had a lot of buzz surrounding it before it was even released. It comes with six different colors, three that you can contour with and three that you can highlight with! The choices for the colors are such that they suit almost every skin tone. Moreover, you can use each shade of highlight or contour in a different combo to give your face different looks depending on your day's attire!
7. Clinique Take Off The Day Cleansing Milk

Ideal for dry skin, this removes your makeup and leaves the face feeling silky smooth. All you need to do is pump a little amount in your hand, massage all over your face for a couple of minutes and rinse off! Result? Makeup free skin, left all smooth and gorgeous!
8. Tarte Colored Clay CC Primer

This product is a God-send for those rushed off morning makeup routines! You can simply buff off the primer on your face for a more even, bright and lets just say, perfect complexion! If you take care of your skin really well and its in good condition, you can even skip the foundation routine, just use Tarte Colored Clay CC Primer and you are good to go!
9. Fresh Black Tea Firming Overnight Mask

Beauty sleep just got glossyfied! Go to bed with dry, irritated skin and wake up feeling fresh faced and rejuvenated! This mask combines the science of night creams and skin's natural rejuvenating night time process to give you flawless skin the next morning! It uplifts, firms and gives the skin the perfect glow!
10. Urban Decay Naked On The Run Palette
This is THE palette for Naked junkies. While most of us have hoarded all three of the Naked palettes (guilty as charged), we can't always carry them everywhere with us! Solution? Naked On The Run! This palette combines a little something from the entire Naked range and gives us the perfect travel companion to look glamorous!
11. Elizabeth Arden Flawless Future Powered by Ceramide Moisture Cream SPF 30

This Elizabeth Arden products serves as a moisturizer and an anti-aging treatment both! With every application, you get smoother, softer skin and you see those pesky fine lines and pores disappearing. With regular usage, you get luminous, youthful skin, free of any discolorations and imperfections!
12. Chanel Perfection Lumiere Velvet SPF 15

Yet another gem of a product, Chanel Perfection Lumiere Velvet SPF 15 is probably one of the best Chanel products out there. The foundation gives an absolutely natural velvet-y matte finish, without making the face look cake-y or dried out. The soft focus pigments in the foundation smooth out imperfections and the sunscreen factor helps fight UV rays! Available in 9 different shades, this is one beauty product you should definitely splurge on!
13. Physicians Formula Bronze Booster Glow-Boosting BB Bronzer SPF 20

This is one more product that cuts down makeup time to minimal. How? It combines the power of a moisturizer, foundation, bronzer and sunscreen. Result? A glowing complexion that lasts all day long achieved within two minutes! This product is perfect for those with fair skin looking for a touch of bronze glow without getting a tan!

Revlon has really outdone themselves with the Colorburst range! The Colorburst Crayons are available in three different finishes: matte, lacquer and balm stain. This means that there is something for everyone to choose from. Moreover, the range of colors available in each finish are amazing! From a Demure pink to a Shamless purple to a Romantic red, the colors are just pout-perfect!
15. StriVectin Clinical Corrector Anti-Aging Eye Illuminator

Those late nights out, either working or partying (guilty, again), take a toll on our skin. Worse, the horrible dark circles take forever to go away! With StriVectin Clinical Corrector Anti-Aging Eye Illuminator, you can easily hide those late night proofs of your under eyes and illuminate them to look fresh and well slept! Whats ever better is that you can use this illuminator to hide other imperfections on you skin too and not just the eye area!
16. Tarte Smooth Operator Amazonian Clay Finishing Powder

Tarte's Amazonian Clay range is yet another beauty line that deserves each of the exaggerated rave it gets! Tarte Smooth Operator Amazonian Clay Finishing Powder from the range is just a proof of how amazing the whole clay ingredient used in the range is for your skin. It is a translucent powder that you can use either on bare skin to smooth imperfections or over your finished makeup to set everything to perfection for a lasting finish!
17. Lashem Lash Enhancing Serum

Mascaras can give us all the volume and length we want for our invisible (*sigh*) eyelashes but a product that actually enhances our lashes to make them appear longer and thicker naturally? We are sold! Lashem Lash Enhancing Serum promises to boost your eyelashes within a couple of weeks of regular usage. It nourishes and conditions your eye lashes on application and gradually, works over time, to make them appear more beautiful naturally.
18. EOS Smooth Sphere Lip Balm

The ultimate in lip care we think everyone has these and for good reason! These sphere shaped balms provide a surge of moisturization, sun protection and sensual smoothness. These lip balms are available in ten delicious flavors ranging from Vanilla Mint to Summer Fruit and from Pomegranate Raspberry to Blueberry Acai!
19. Rimmel Moisture Renew Lipstick

These Rimmel babies are the key to keeping your lips moisturized all day without using anything other than your lipstick! Very few lipsticks provide moisture without compromising the vividness of the color and Rimmel Moisture Renew Lipstick is one of them! The range has 24 gorgeous shades to choose from. Our favorite for winters is As you want Victoria!
20. Maybelline Expert Wear Eyeshadow Palette, Nudes
This palette is similar to Urban Decay's Naked Palette. For literally a quarter of the price! And with such an easy blending quality, what's not to love? The palette is perfect for everyone! You can create a natural day time look with it or you can amp up your night time makeup with a sensual smoky eye using the palette. You can use the 12 eyeshadow colors in quads, trios or duos as you see fit to rock the nude trend!
21. Too Faced Melted Liquified Long Wear Lipstick

These amazing Too Faced lip products combine the shine of a lip gloss, vivid color of a lipstick and the long wear of a lip stain to give the ultimate flush of color to your pout that looks glossy, pigmented and stays on for hours all at the same time! Available in 18 gorgeous shades, you can choose from sultry nudes, refreshing pinks or sexy reds!
22. Nails inc Gel Effect Polish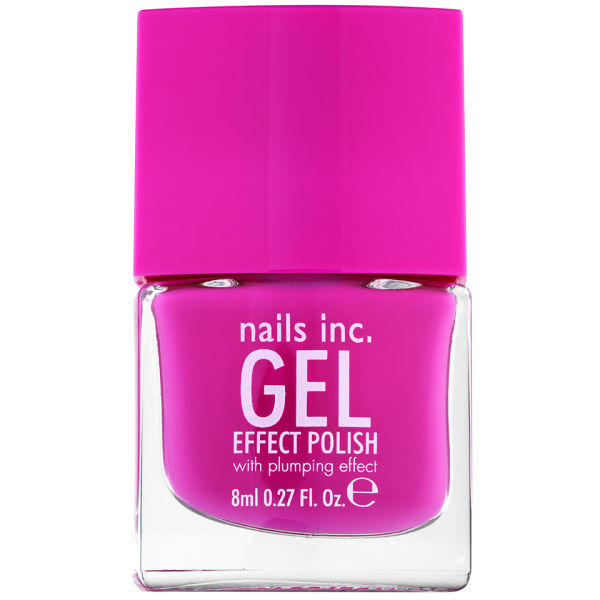 Get the gel look at home without the use of a UV lamp or going to the salon! These nail polishes give a super glossy look for that ultra salon-like finish without all the hassle! The range has the most beautiful colors to choose from, for sexy off the ramp and classy pale manicures!
23. Benefit They're Real! Push Up Liner

This eyeliner created a hype in the beauty blogosphere and got such raving reviews long after its launch; deservedly so! The innovative eye liner has an easy applicator that allows the tip to cling to the lash line and give the ultimate gel line over your eyelids for a 24 hour look! Once applied, the liner doesn't budge or smudge, giving your eye makeup the perfect final touch!

A part of Juice Beauty's Stem Cellular range, this eye mask delivers what it claims! The two step mask instantly brightens and lifts your eyes with the help of its organic ingredients, dramatically transforming the tired, aged looking eyes into youthful, fresh bright eyes!
25. Too Faced Better Than Sex Mascara
The name says it all! The mascara gives the ultimate volume while separating each lash, coating it with black glossy-liciousness and curling it to perfection! The mascara is vegan friendly and has a unique, hour-glass shape brush that is the secret behind its gorgeous results! We have found our holy grail mascara, have you?
Congratulations to all the winners! 
Want to be considered for next year's Beauty Awards? Find out how!
FROM THE WEB:
---
Follow