Think of how great life would be if you could spray your hair with sweet smelling notes without damaging your hair. Or better, it smelling like Chanel! Yep, it's possible ladies, hairfume is the latest beauty buzz in the industry. It's basically perfume for your hair minus the harsh chemicals of real perfume. Lots of brands infuse vitamins in them to ensure your strands feel and look healthy too! That's left a lasting impression on the beauty industry, let alone it's eager audience –  me!
The instructions are simple: Spray on desired area (that being your hair), toss hair around, and go from "regular-smelling" hair, to "sexy-vixen-runway-model" hair.
I haven't been this excited about hair since Keratin and dry hair shampoos! Hairfumes (also referred to as hair mists) are ideal for freshening up after the gym, a hot summer day, or just because – like we need an excuse to smell good!
Up Next: Our guide to help you choose the best hairfumes in the buiz. These scents were reviewed and tested by real people. Click "next" to see what they had to say!>>>
VIKTOR & ROLF Flowerbomb Hair Mist
$45 at Nordstrom.com
Product Details: Flowerbomb is a floral explosion, a profusion of flowers that has the power to make everything seem more positive. Bomblicious Hair Mist leaves hair delicately perfumed and soft.

What Someone Said @Sephora.com:
Love the Flowerbomb fragrance! And, I was absolutely ecstatic when I saw the Hair Mist. Now every time I flip my hair I feel like I have flowers flowing out of it, floating in the air around me. I even caught one of my co-workers smelling my hair! (Potent stuff, note to self, must be careful with my use of Flowerbomb).
Chanel Coco Mademoiselle Fresh Hair Mist  
$93 at us.strawberrynet.com
Product Details:The delicately fragranced Fresh Hair Mist leaves a light, true fragrance on the hair. The gentle formula contains a silicone derivative, which leaves hair soft and shiny and protects against drying. 
What Someone Said @makeupalley.com:
I love this product! It smells great and it's not too heavy. Like the name of this hair mist says, it's totally fresh! I would definitely buy this again and again and again! It's a must-have!
Thierry Mugler Tm Perfume In A Hair Mist 
$40 at sephora.com
Product Details:This fine spray neutralizes unwanted odors such as tobacco and pollution while gently diffusing the voluptuous facets of Angel. Experience a delicious scent from your flowing heavenly locks!
What Someone Said @Sephora.com:
This stuff is incredible! I absolutely love it. Of course the scent is fabulous, but it really is lovely in your hair. It is a bit softer than the regular Angel perfume, not overpowering at all. It stays for a nice amount of time in your hair and does not dry it out like spraying straight perfume would. It makes me feel like a million bucks! I wish more perfumes had a hair mist option.
Paul & Joe Body & Hair Mist 
$18.50 at beautybay.com

Product Details: A refreshing, hydrating spray that instantly freshens and invigorates the entire body. Formulated with organic jojoba oil and orange flower water, along with rose and musk scents, this product cools the skin and leaves hair glossy and smooth.
What Someone Said @UrbanOutffiters.com:
I love this Paul & Joe Body & Hair Mist. It has a subtle orange floral scent and it smells lovely and fresh. It does not smell powdery like most Paul & Joe makeup products, I have noticed. Wish the scent lasted a little longer though. It's a perfect size to keep in my purse, I can use it anytime to moisturise and refresh my skin and hair. It has two layers (oil and water) so make sure to shake before use!
MARCHESA 

PARFUM D'EXTASE Hair Mist
$38 at Sephora.com
Product Details: The scent with light florals, giving way to a combination of fresh and woody notes that create complexity and beauty. Iris is the secret to the fragrance's richness, capturing the delicate essence of its flower petals and the dark sensuality of its precious roots. 
What Someone Said  @Sephora.com:
Luv this hair mist. Worth every penny. When you
start to sweat… you can actually smell the hair mist
more. Strong perfume, I wear it anywhere. To work
and to the gym.
CLEAN 
Original Hair Mist
$24 at Sephora.com
Product Details:Inspired by and reminiscent of pure soap, this scent is perfect for women who enjoy an array of crisp, subtle scents and prefer that fresh-out-of-the-shower smell.
What Someone Said @Sephora.com
If you don't like very strong perfume, this hair mist is
perfect. It has a light clean scent. Luv it.
L'Occitane Pivoine Flora Perfumed Hair Mist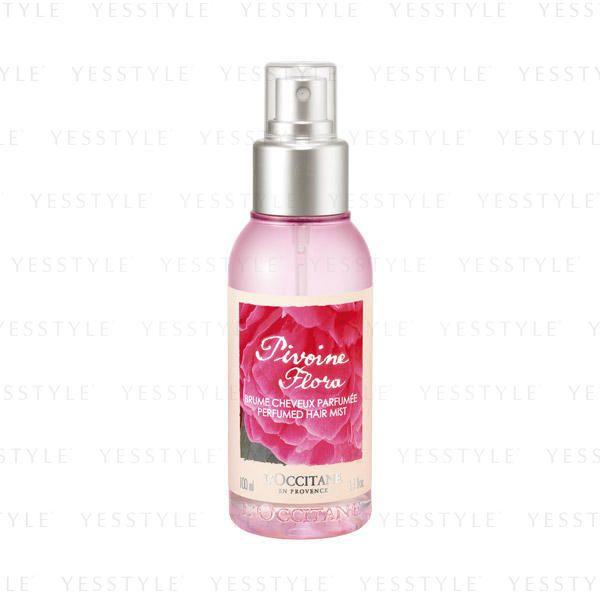 $49.90 at yesstyle.com
Product Details: The generous peony infusings ensure that any unwanted musks can be masked, making it the perfect on-the-go scent.

What Someone Said @dubai-beauty-pages.com
I've always loved spraying perfume into my hair – as unlike skin where it tends to fade within a few hours, the scent really sticks around all day. L'Occitane Pivoine Flora Perfumed Hair Mist is the ideal way to do it, as not only does the sweet, summery scent of Peony cling to hair, but it helps to condition and smooth hair too.

 
Aquolina Pink Sugar Hair Perfume
$160 at barneys.com
Product Details: Pink Sugar begins with sugary sweet notes of cotton candy, strawberry, raspberry and orange which fade to reveal sensual mid notes of lily of the valley, fig leaves, and barbe-a-papa. The scent finishes on rich, soft base notes of vanilla, amber, and musk. 
What Someone Said @Amazon.com:
I smell like a bakery & my husband loves it ahha! My daughters think I smell like cotton candy. Reminds me of cupcakes! Either way I LOVE IT! I don't eat sweets hardly but I really do love the smell of this stuff…Does linger so a little goes a LOOOONG way! Found myself swishing my hair to smell it! ahah!
Tell Us: Are you excited about hairfumes, did you find the reviews useful, which ones are you planning to try? Leave your comments below!
FROM THE WEB:
---
Follow