Yasssssss, I feel your pain! Applying false eyelashes (a.k.a.) falsies, are one of the hardest things you'll ever learn! And if you don't believe me, see for yourself.
But when you master it, it will take your makeup to the next level.
Truth is, it's not that hard to apply false lashes, it just requires a little practice and (most importantly) patience.
I promise you, once you get the hang of it, you'll be able to apply your falsies in five minutes or less!
But first things first, you're going to need:
1)  False Eyelashes
2) Eyelash Adhesive
I recommend Duo because it dries black and blends seamlessly with your eyeliner.
3) Liquid Eyeliner
For blending your eyelash strip to your lash line.
4) Mascara
Ok, let's begin!
Step 1)
Apply Eyeliner Across Your Eye
Considering I'm not the best at applying eyeliner…
Use these gifs that will steer you in the right direction:
Your eyeliner doesn't have to be dramatic.
Just enough to get the job done.
Step 2)
Take your falsies and gently remove the excess glue it has on the lash strip.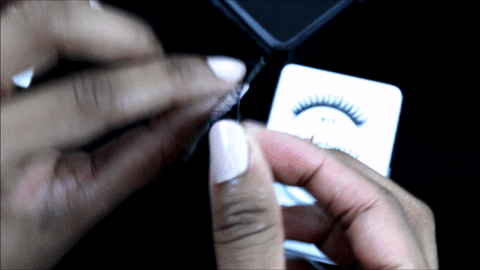 It comes with the packaging.
Step 3)
Bend your eyelashes.
It will help it curve to the shape of your eye and allows easy placement.
Step 4)
Now place the eyelash over your eye.
Measure your eyelashes by placing them over your eye. If the lash is too long, clip between 1-2 millimeters from the outer corner.
Step 5)
Slowly apply the eyelash adhesive on your lash strip.
The best way to do this is by using a toothpick or the end of bobby pin as an applicator. It will give you more control and prevent you from applying too much adhesive.
However….
I didn't use either because I've gotten used to using the end of the adhesive and slowly dragging it across the lash. Feel free to do what's more comfortable for you.
Then wait 10 seconds, or until the glue is tacky to attach the lash.
This is by far the most crucial step, applying it too soon will cause a sloppy sticky mess. Your lash will either slide off or smear all over your lid.
And applying it too late will cause the glue to dry and not stick.
Therefore, it's important to pay close attention to the glue.
Step 6)
Using tweezers, or in my case, fingers, slowly apply the outer corner of the lash against your lash line. Stop once you've reached the middle.
Step 7)
Now secure the other end.
Do this until your confident both ends are secure.
Step 8)
Apply mascara to blend your natural lashes with the falsies.
DONE!
Now try it a couple more times and soon you'll be a pro!
Did you find this tutorial helpful?
Are there other techniques you'd like us to try?
Tell us in the comments below!
FROM THE WEB:
---
Follow