Naturally curly hair can take a little more work than straight, soft hair. It needs that little bit more looking after, but it's worth it, as you're often the envy of those straight-haired girls that can't get a curl to stay in place. The first part of looking after your naturally curly hair is learning to love it. It took me a long time to step away from the straighteners once in a while and appreciate that naturally curly hair is also beautiful.
Tip 1 – Know your hair type.
Curly hair can come in different textures, from a loose wave right up to tight coils. Understanding your hair type can help to identify the different ways you need to look after it, hair like mine which fits somewhere between curly and wavy, will need different treatment to hair with coils.
Take a look at this universal chart to see where your hair fits: 
Tip 2 – Keep it conditioned.
Curly hair often tends to lean towards the dry side, so keeping it well conditioned is super important. Find a good deep conditioner and use it twice a week. My favourite is Dove Dry Care Oil (£6.99, at Boots). When conditioning, focus on the ends, as this will be where your hair needs the moisture the most.
Tip 3 – Find a good leave in curl product.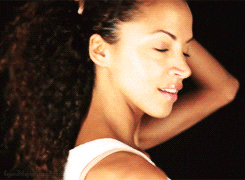 These often help keep your curls well-defined and in place for the day, and are important if you want to steer clear of frizz. These are usually applied after washing, on wet hair, before you air dry or blow dry.

I use Bumble and Bumble's Thickening Hairspray ($13.34, Selfridges.com), as it keeps curls perfectly in place, don't be fooled by the name, though, it works great on thick hair as well as fine hair. If you have hair leaning towards the tighter curl side, products with natural moisturising properties like Coconut Oil or Moroccan oil work great to keep frizz at bay.
Tip 4 – Check the ingredients.
If your hair is very curly and dry, alcohol will immediately dry up your hair, making it more difficult to deal with. Check the ingredients, especially of drugstore products to ensure you're not using large amounts of alcohol on your hair. For looser curls like mine, this may be less of a problem, but something to keep in mind.
Tip 5 – Use a heat-protectant spray to keep split ends away.
If you're going to be using a hairdryer and straighteners to touch up your hair, make sure you use a good heat protectant in order to stop split ends and damage.
Try: Tresemme Keratin Smooth Heat Protection Shine Spray ($5.99, Ulta) it smells really good, alcohol-free and ensures your hair stays smooth all day.
Tip 6 – Co-Washing
Since curly hair is on the dry side, regular shampooing strips the hair from its natural oils. Try to shampoo less regularly, either using a dry-conditioner in between washes, like I do, or even just using a cleansing conditioner when you wash your hair, like this Ouidad Co-Wash ($30, Ulta) which stops the hair feeling stripped and dry.
Tip 7 – Ditch The Brush.
Finger-combing and using wide toothed combs are a much better method to rid your hair of tangles, and kinder to the hair. Brushes create frizz and can damage curly hair further. 
Tip 8 – Use a Diffuser.
When using a blow drier on curly hair, a diffuser attachment is essential. This helps to distribute the heat and air evenly and softly to dry the curls uniformly. To help to keep your hair in good condition, dry the ends last and use the least heat on them, leaving them to air-dry slightly at the end. If you have the time, or don't own a diffuser, air-drying your hair ensures no heat is used, keeping it in even better condition.
Tip 9 – Scrunch, Scrunch, Scrunch.
When your hair is drying, scrunching your hair using your hands helps the curls to form and prevents frizz.
There you have it, my top tips for looking after your natural curls. Do you have any tips?
image credit: hollywoodlife.com, giphy.com
FROM THE WEB:
---
Follow