With Honeymoon being released on September 18 and the world holding its breath, Lana topped it all of with an astounding photoshoot with Nylon.
The Hollywood pop/sad core goddess never fails to be herself in everything she does, be it lyrics, interviews or shoots, the die-hard fans, truly appreciate it. Point proven in the pages of this month's V Magazine in which she talked about her views on feminism:
"The luxury we have as a younger generation is being able to figure out where we want to go from here, which is why I've said things like, 'I don't focus on feminism, I focus on the future. It's not to say that there's not more to do in that area. I've gotten to witness through history the evolution of so many movements and now, I'm standing at the forefront of new technological movements. I'm not undermining other issues. But I feel like that's obvious, like I shouldn't even have to bring that up."
I'm slightly confused, as she somehow managed to be vague and superfluous, but she does have a point when implying that equality is universal and should be a normal discourse. But then again, it's Lana we are talking about, poetic Lana to be more precise and she doesn't have to be the face of feminism; her music is not about that.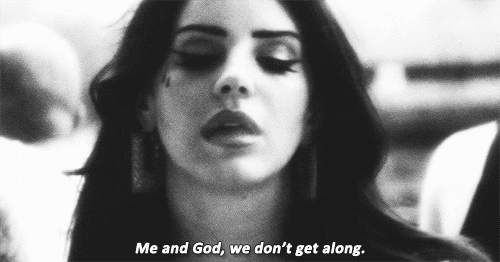 Long, tousled waves with auburn highlights and a center part, we get a hair envy that is particularly hard to deal with. Especially when you have a bob going on.
Wearing white in one picture and green in another, we cannot decide which one looks
more fab. Of course, we see her signature winged liner paired with a soft pink lip and then with bold dark purple lips.
Using Bobbi Brown Gel Eyeliner, Black Ink ($25, NeimanMarcus.com) and an Angled Eyeliner Brush from Laura Mercier ($20, NeimanMarcus.com), you can have precise application so you will be able to get Lana's perfect and dramatic flick.
It's barely there, yet it does a massive difference in the overall look: the rosey cheeks are always in. Hourglass Ambient Lighting Blush, Luminous Flush ($35, Net-A-Porter.com) is not only a pretty product to stare at, but will give the ideal cheek color you are looking for.
For achieving the natural pink lip we recommend the Burberry Lip Mist Natural Sheer Lipstick, Pink Heather ($33, Shop.Nordstrom.com) and for the bolder look we would go for Make Up For Ever Aqua Lip Waterproof Lipliner Pencil, Matte Dark Plum ($19, Sephora.com). Go ahead and overdraw the contour of your lips, just like our queen here did and then apply Urban Decay Revolution High-Color Lipgloss, Bitter Sweet ($22, Sephora.com).
There you have it, your own Lana Del Rey makeup look. What do you think about the Nylon shoot?
FROM THE WEB:
---
Follow