Before I share my thoughts on the LORAC afterGLO Eye Shadow Palette ($18; loraccosmetics), let me tell you guys what made me buy this glossy-licious beauty!
One of my favorite things to do is admiring how some women experiment with bright eye shadows. It's almost artistic how they effortlessly blend them into a gorgeous masterpiece. I see this a lot with makeup artists and celebrities, but hardly on the "average woman," making me wonder, are bright eye shadows really that intimidating?
Like yaaaah! That's the main reason why I only use them when I go clubbing (did I really just say that?), hardly ever during the day/work week. It's how I avoid looking too made-up, which makes staying loyal to my Urban Decay Naked 2 Palette super easy. 
But a few weeks ago, I got tired of my makeup routine and took a chance on LORAC afterGLO Eye Shadow Palette ($18; loraccosmetics).
I swear the moment I laid eyes on it, I was mesmerized. Maybe it was the sturdy turquoise case that stole my heart. Or how fashionably chic the gold logo glimmers on top–but before we go any further, please pause and listen to this track.
"I'm soooo fancy! Can you taste this goooold?"
SO fitting right?! That's exactly the song I heard (in my mind) when I first saw it! Is that weird?
I also like the color selection (obviously). It features ten colors (two neutral tones used for highlighting and blending) that are bright and—dare I say—office friendly. Yes, it's true!
The colors can look both bold and subtle, depending on how you style it. However, if you are a daring gal who can't resist making a statement — I applaud you btw — consider the LORAC afterGLO Eye Shadow Palette ($18; loraccosmetics), your playground. You can mix and blend these babies as you please.
The only thing is, if you are of darker complexion (like myself), some of the colors may look opaque, as opposed to how they look on lighter skin tones. Nothing a few layers won't fix! I actually like having control over how bold the color comes out. I recommend building it to your liking. The colors also look a lot brighter with a primer unedrneath, so use it to your discretion.
LORAC afterGLO Eye Shadow Palette up close and personal:
Gorgeous, right? What makes it super cool, is that when you pull it out of your bag, most people won't know who it's by—until they see the logo, that is.
When I first showed it to my friends they were all "ooohhh-ing" and "ahhh-ing" over it. 
It's kinda like whipping out a Nokia Windows phone, as opposed to the universal iPhone. I think it's safe to say most of us girls get stuck on some particular brands like Urban Decay (or "insert brand here") , and forget about all the other equally cool brands—I'm totally guilty of this. 
Back to the review—sorry, I tend to ramble.
[Btw I couldn't decide if the "bronze color", was bronze or brown shimmer, so I used them both.] 
As you can see from the pictures, LORAC afterGLO Eye Shadow Palette ($18; loraccosmetics) has both matte and shimmery colors. I honestly prefer shimmery eye shadows, but when I feel like wearing minimal makeup, I use the brown matte color for a natural look. On the other hand, if I want a little drama, I mix brown shimmer/bronze, caramel and brown (matte) for a smoldering smoky eye. I also play around with orchid, dressing it up with mascara and falsies. Gold looks beautiful too; it brightens my eyes with a single swipe of color. For the office, I apply one layer of coral all over the lid and a thin layer of dry brown eyeliner; and transition it to a night look, with heavy mascara and (black) liquid eyeliner.
I also like turning the green eyeshadow into an eyeliner by scraping a small amount on my palm and adding a few drops of water to it. I dip an eyeliner brush and run a thin line across my upper lid, and do the same with gold on my lower lid; the contrasting results are simply gorgeous!.
Now for some colorful inspirations, brought to you by these gorgeous celebrities. I picked three colors that I think are the most intimidating for every-day use. 
Coral: 
What First Comes to Mind…
How To Style It: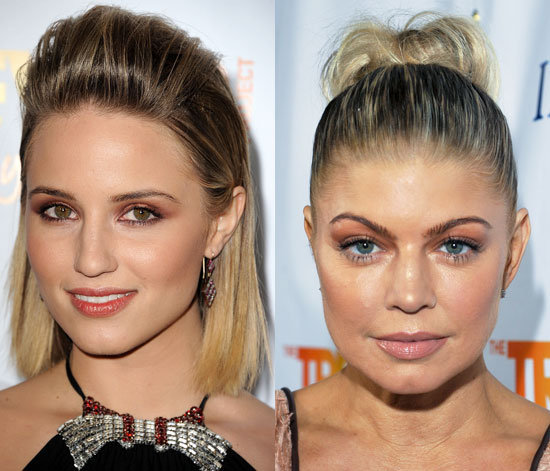 This is exactly what I was referring to when I said LORAC afterGLO Eye Shadow Palette can fit any occasion, depending on how you style it of course. Here, Dianna Agron and Fergie prove that coral can easily look subtle too. You can make it into a day look by using one coat and matching it with contrasting neutrals. 
Green:
What First Comes to Mind…
How To Style It:
I personally looooove how Keke Palmer flipped the script and turned green into a smokey eye!  Matching it with violet lipstick is very clever! I, personally, would have used a nude lip but that's me playing it safe! However, if you feel like this style is too intense, keep it simple like Jlo.
Orchid:
What First Comes to Mind…
How To Style It:
Another great example,  see how a little goes a long way? You can skip the mascara if you want, swipe some lip balm,  and let your eyes do all the talking. It's entirely up to you!
Tell Us: What eyeshadow colors do you avoid  and if you are going to give LORAC afterGLO Eye Shadow Palette a chance? Leave your comments below!
SHOP THE POST:
image credit: www.popsugar.co.uk;theburgundybook.com;bellezza.pourfemme.it;www.imageconsultingschool.com,
FROM THE WEB:
---
Follow