The social media hashtag #MakeupTransformation has been on the upswing on Instagram, usually consisting of a collage of four boxes: three consecutive makeup steps, and the fourth box of the final look or, in many cases now, a celebrity.
A lot of deeper speculation can be had regarding this satirical trend—how it emphasizes Hollywood's reliance on makeup, how girls can feel transformed and confident after putting on their makeup, etc—and that ability to find insight is especially true now that guys are hopping on board, too.
Whether they're transforming into Jay-Z or Kim Kardashian, Instagram has countless examples of dudes who apply some kind of makeup in order to help them get at all close to the person in the fourth box.
Fake stubble, concealer, eyebrow pencil—you name it! Those who aren't searching for meaning might laugh it off as ridiculous, asking themselves if guys even know what makeup is.
Others may think of it as a small positive among the highly gendered cosmetic industry. Yet some can place further blame on the powers of makeup leading to false appearances.
Here's my take: At first, I thought the #MakeupTransformation was kind of dumb. But then I realized how much it's breaking society out of its shell—it's unisex, cross-sex, and breaking down gender barriers.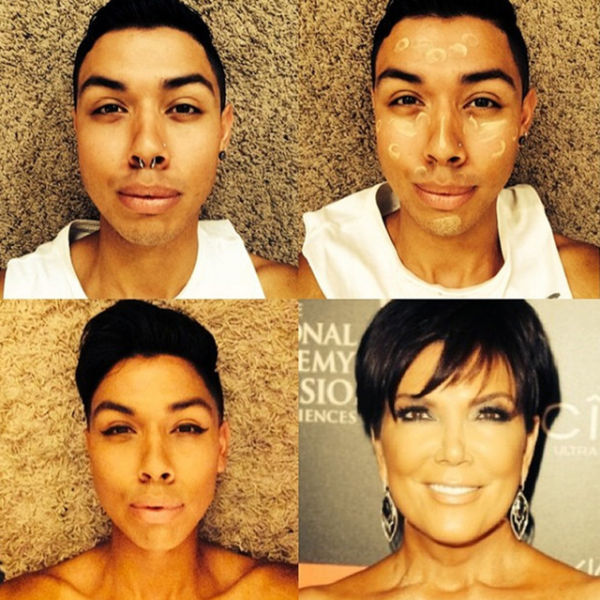 Girls are "transforming" into Drake, guys are "transforming" into Rhianna, and no one scoffs or ridicules. The point is to just share a laugh. 
In a society where drag queens and transgender people have existed and been persecuted to no end, this silly little Instagram hashtag has advanced us further than we think.
 Yes, some of the people look nothing like their fourth-box celeb, and that's the funny part.
They're poking fun. But others manage to pull off an uncanny replica, not unlike a low-budget version of typical drag, and we find ourselves being majorly impressed.
My hope is that somewhere, somehow, men's participation in #MakeupTransformation is helping to erode the barrier of hyper-gendered stereotypes, that we can all marvel at each other together, and no one must suffer a leery side-eye or under-the-breath insult.
Maybe, without us even realizing it, #MakeupTransformation is transforming itself into a #MindsetTransformation.
Do you know anyone who's done a #MakeupTransformation?
FROM THE WEB:
---
Follow