I'll admit when I first saw the teasers for Fox's highly anticipated show filled with celebs I really was not digging it.  However, being a lover of anything Blair Waldorf/Scream I had to watch it!  I was only able to get through the first half of the 2 hour pilot because I'm a grandma (not literally) and pass out no matter how good a show is around 10 pm!  Anyways, I'm going to start with the main characters of this show to give you a little glimpse into what is going down.
1.Chanel #1 aka HBIC aka Head Bitch In Charge of KKT
She is evil to the core and uses her good looks and money to make anyone with an inferiority complex bow down to her.  You do get to see a softer side of her before she was Chanel #1 being abused by the Chanel #1 before her.  But then again was she acting?  I mean she did put sulfuric acid in the spray tan machine so that her predecessor Chanel #1 would get burned to a crisp.  Bye bye bitch!
2.Grace
Ah, sweet looking Grace with those Shirley Temple curls and crystal blue eyes.  She gets dropped off at college for her freshman year by her hot as hell father played by Oliver Hudson.  Her father pleads with her not to join a sorority but in her dearly departed mother's honor Grace feels the need to (who see's some future twist involving her mother?!).  Grace also has a tough side and i'm pretty sure Chanel #1 will not be taking orders from anyone who loves the movie Twilight.
3.Zayday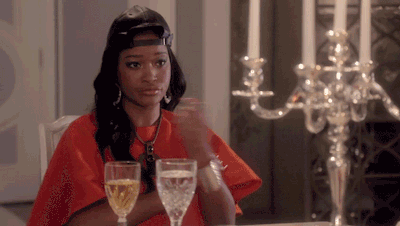 Zayday is Grace's fun, outgoing roommate who Grace drags to the KKT pledge night.  Now she may not seem like a main character but I see some major character development here.  Her and Grace seem to have already formed a bond and she will not let Grace stand alone in whatever she faces.
4.Dean Munsch
Played by the original scream queen herself Jamie Lee Curtis, Dean Munsch is a force to be reckoned with.  She is tough, crass, bangs younger men and then spits them out when she is done with them.  She has it out for the KKT sorority and will not let them keep their abusive ways.  In an effort to end this she makes it a policy that any and all pledges will be accepted into the sorority.  Unfortunately, after girls start to go missing and an unfortunate lawn mower beheading incident she refuses to let the media know of her precious college's Murder U status.  I see a meltdown in the near future!
5.Pete
Pete is a barista, student and investigator for the school paper.  He meets Grace in the local coffee shop just minutes after Chanel #1 demands a 210 degree coffee and then throws it away when it's too hot (yeah this is what we are dealing with here people).  After finding out Grace is joining KKT he warns her to stay away because of all the horrible things that happen there.  Cue a love interest!?
Notable Mentions
Chanel #3, Chanel #2, Chanel #5
Hester
Boone
Scream Queens is mashup of Jaw Breaker, Heather's and Mean Girls all in one.  If these movies are some of your favorites than I can guarantee you will love this show!
So tune in bitches and stay tuned for my next feature which will include plots, death and lots of expletives!
Have you watched Scream Queens?!
FROM THE WEB:
---
Follow