For all the beauties with hectic routines, Glossy Finds brings you the ultimate #TransformationTuesday Beauty Cheat Sheet!
When you have a busy schedule and limited time to get ready, it's easy to get stuck in a boring makeup routine. You go from wearing different lipstick and eye shadow colors to exhausting your selection to a couple of shades, just enough to make you look presentable.

For #TransformationTuesday, why not pick things up with some "look-at-me" eyes, lips and nails? Take cues from the list below and pick your favorite must-haves or wear them all!
Your #TransformationTuesday Beauty Cheat Sheet to make you go from Boring to Glossy-licious!
BOLD EYES: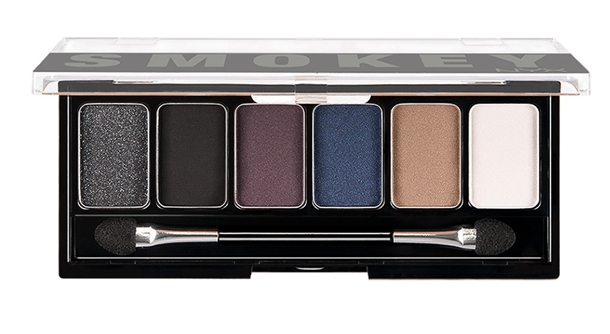 For #TransformationTuesday, intensify your eyes and give them some drama with sexy, dark colors. We think the glossy-licious NYX Smokey Shadow Palette, $7.49 at Ulta.com, is just what you need to amp things up.
Directions: Brush any of the darker tones across your upper eyelids and use the palest color to highlight the inner corners of your eyes and the brow bone. Add falsies, black eyeliner and lots of mascara for a more dramatic effect!
TIP: For an office friendly look, brush the brown eyeshadow on the lid and draw a thin line across the upper eyelid, using a creamy, brown eyeliner. Then blend the eyeliner with the eyeshadow using a smudge brush to create a smoldering look. Finish with a few swipes of your favorite mascara.
LIPS:
When sporting intense, dramatic eyes for #TransformationTuesday, swipe a neutral color across your lips that highlights your pout's natural tone. One of my favorite nude lipsticks right now is Maybelline's "The Buffs" by Color Sensational, $7.29 at Walgreens.com.
If you're a fan of Urban Decay's Naked 1 and 2, these nude tones are their lipstick equivalent. The smooth and rich nude colors are gorgeous and range across 10 different tones to make them suitable for all: Bare All, Blushing Beige, Nude Lust, Maple Kiss, Truffle Tease, Sin-a-mon, Touchable Taupe, Stormy Sahara, Untainted Spice and Espresso Exposed. 
Killer Sunnies:
Let's face it, a nice pair of sunnies go a long way. Sport a sexy pair of sunglasses to add a hue of glamor to #TransformationTuesday. Nasty Gal's Cheap Monday Expo Shades, $60.00 at NastyGal.com, are to-die-for! Add this baby to your wardrobe and you are bound to turn heads.
Nail Swag:
Of course, a fierce mani is a must to finish the #TransformationTuesday. Let your digits channel your inner Rihanna with Nail Inc. Their broad selection of intense colors are spellbinding and unique. Go ahead and dare to be different!
Tell Us: How are you spending your #TransformationTuesday? Did you like our beauty cheat sheet, are you excited to try any of the products mentioned? We're dying to know!
Shop the Post:
FROM THE WEB:
---
Follow